We have been providing quality air conditioning repair solutions for over 30 years in Palm Bay.
Is your air conditioning system going out, and you aren't sure what to do? When you require air conditioning repair at your home or business in Palm Bay, Florida, you want to make sure you call on a company that will truly help you get the best results. That's where our experienced team at Custom Air and Heat Inc. comes in!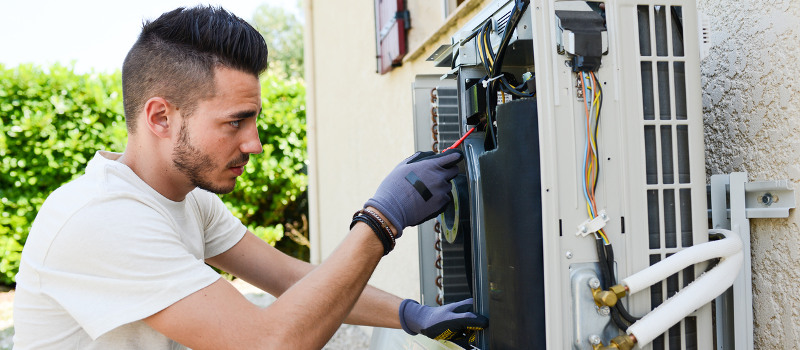 We have been providing quality air conditioning repair solutions for over 30 years, and we know you'll see great results when you make us your air conditioning contractor of choice. With our air conditioning repair services, we'll work with you to make sure your air conditioning system is truly working its best. We will troubleshoot the concern and provide honest recommendations, and we always offer fair prices when it's time for a repair. We know that when you feel comfortable at your home or business again, we'll have done the job right!
There are lots of reasons to choose our team at Custom Air and Heat Inc. for your air conditioning repair; one is that we can service all makes and models. We also carry top brands when you need replacement parts or need new installation of your air conditioning system. We are in the business of taking care of people, and we won't say the job is done until you are completely satisfied.
Contact us at Custom Air and Heat Inc. today to schedule your air conditioning repair and to inquire about our cooling services in Palm Bay. We look forward to helping you achieve great results!
FAQs About Air Conditioning Repair
We want to help you keep your home or business cool and comfortable, and that starts by answering your questions about air conditioning repair. To save time, we have answered some of our frequently asked questions below, but you're welcome to contact us if you have other questions about our services.
What are the most common signs I need air conditioning repair?
When you need air conditioning repair at your home or business, you may notice the following signs:
Insufficient cooling
Strange screeching, banging, rattling, or clicking noises
Ice on the unit
Foul odors
A broken thermostat
High humidity indoors
Rising energy bills
Warm air coming from your vents
How can I prevent the need for air conditioning repair?
Sometimes, air conditioning repairs are unavoidable, but the best way to prevent problems is to keep up with your air conditioner's maintenance. You should schedule professional maintenance for your air conditioner at least once a year to keep the components in good condition and reduce your system's risk of malfunctions. Maintenance appointments also catch problems early for they become a major expense or leave you without AC at the worst possible time.
Is there anything I should try before calling for repairs?
Before calling for air conditioning repairs, you can check for a few things. Examine your thermostat to determine if it needs new batteries. You may also want to make sure your vents are clean (since dust and debris could block the air from coming through) and change your air filter. If the problems persist, go ahead and give our team a call to schedule air conditioning repairs for your system.
---
At Custom Air and Heat Inc., we offer air conditioning repair services in Palm Bay, Melbourne, Viera, Rockledge, West Melbourne, Melbourne Beach, Indialantic, Indian Harbour Beach, Satellite Beach, Cocoa Beach, Cape Canaveral, Cocoa, Port St. John, and Merritt Island, Florida.
Similar Services We Offer: