Turn to us for honest answers about air conditioning replacement for your Rockledge home or business.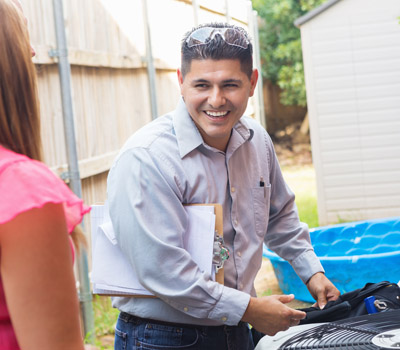 One of the questions we get here at Custom Air and Heat Inc. rather frequently is "How do I know when it is time to consider air conditioning replacement for my Rockledge, Florida home or business?" It particularly comes up when a customer has had another HVAC contractor encourage them to replace an air conditioner that is still functioning. We understand that you could wonder if the adage "if it isn't broke, don't fix it" applies, but there are some very good reasons to call us about air conditioning replacement that you might not have thought about.
Of course, a failed unit, in which the repair costs would be significant, leaves little doubt that air conditioning replacement is a viable answer. However, another situation is having an older, inefficient system. In general, if you can upgrade by 2 or more SEER, your energy savings will help you recoup the cost for the upgrade in a shorter period than you might expect. Putting dollars toward an investment in your home is always better than money spent and gone forever.
Another good reason for air conditioning replacement is adding value to your home. It can be challenging to sell a home that has an older unit in place, and savvy buyers often take the time to check past utility bills before putting an offer on a home. Comfort is another reason to proceed when your current system isn't providing the comfort level you'd like. Life is too short to swelter in the Florida heat, right?
If you would like an honest assessment of your current system and our recommendation about air conditioning replacement based on 30 years of experience, don't hesitate to contact us. We are well known for honest practices and fair pricing, so you can be confident you'll get information you can trust.
---
At Custom Air and Heat Inc., we offer air conditioning replacement services in Melbourne, Viera, Rockledge, Palm Bay, West Melbourne, Melbourne Beach, Indialantic, Indian Harbour Beach, Satellite Beach, Cocoa Beach, Cape Canaveral, Cocoa, Port St. John, and Merritt Island, Florida.