We provide quality and affordable air conditioning replacement.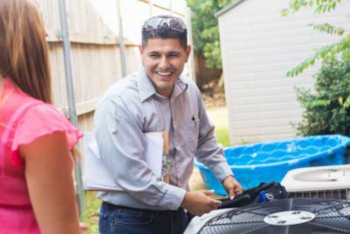 What do you do when the air conditioning in your West Melbourne, Florida home or business stops working? It's simple– you call us for air conditioning replacement! When the air conditioning stops working, you need to have it replaced as soon as possible before things really heat up. Air conditioning is one modern convenience that we have come to not be able to live without, and we rely on the comforts that a constant supply of cool air gives us. When the air conditioner is not working it can be miserable to be indoors in the heat. The heat can cause you to be irritable, make you sick, and prevent you from feeling like accomplishing anything productive.
In order to keep things cool, you need to have us come out for air conditioning replacement as soon as possible. We will come to your home or place of business and check the current air conditioner to make sure that it does in fact need to be replaced. If it does need replacing, we will figure out what air conditioner is right for the space you are cooling. We will go over all of your options with you and help you make an informed decision to find the perfect air conditioner for your home or office. We will then send our team of expert installers to get the air conditioner installed. We will work quickly and efficiently to make sure the job is done right. We will have cold air blowing in no time.
Contact us today at Custom Air and Heat Inc. if you are interested in air conditioning replacement. We work on both residential and commercial buildings. We use quality products and know you will love the end result. We also have many energy-saving options that can help lower your energy usage and help you save money every month on energy costs. Our prices are fair and affordable– we will never overcharge just to make extra money.
---
At Custom Air and Heat Inc., we offer air conditioning replacement services in Melbourne, Viera, Rockledge, Palm Bay, West Melbourne, Melbourne Beach, Indialantic, Indian Harbour Beach, Satellite Beach, Cocoa Beach, Cape Canaveral, Cocoa, Port St. John, and Merritt Island, Florida.