As your air conditioning contractor of choice, we'll ensure dependable and continued performance from your air conditioning system in Melbourne.
When you ignore those little warning signs that your air conditioning system isn't working its best, you're flirting with disaster.  A few drips and dampness could conceal a blockage in the condensate drain, which presents a very real threat of extensive water damage – not to mention that you may not be as comfortable as you could be. Additionally, a slight decrease in airflow could be caused by the growth of mold that can migrate into your supply vents and send millions of spores circulating throughout your home or office environment.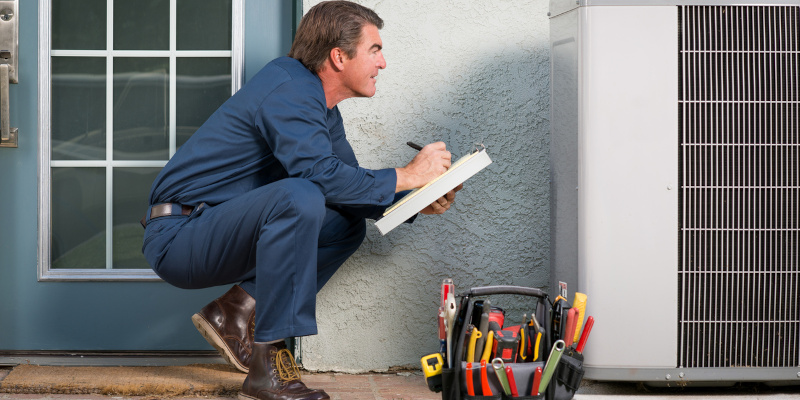 When it applies to your air conditioner, it's not better to take your time to see if things will fix themselves. The best thing to do is call an air conditioning contractor right away, and at Custom Air and Heat Inc., we will protect your home from damage and your equipment from further troubles. As your air conditioning contractor of choice, we'll address your most pressing problem and troubleshoot to ensure dependable and continued performance from your air conditioning system.  Our detailed safety checks and inspections will keep you informed, and we will only proceed with repairs with your consent.
The customer-oriented service you're looking for in an HVAC professional.
Our team at Custom Air and Heat Inc. has the technical expertise, comprehensive training, and product knowledge to restore your system to tip-top condition in your
Melbourne, Florida
home. Through years of hands-on experience, the most sophisticated tools, and an in-depth understanding of HVAC equipment, we'll make sure your cooling system is ready to handle the intense summer workload.  When you need an
air conditioning contractor
, you can rely on us to uncover any worn or faulty parts and head off much bigger problems down the road.
Contact us
today to schedule your service!
As your air conditioning contractor in Melbourne, we guarantee effective solutions for all your repair and maintenance needs.
In the realm of home comfort, air conditioning and heating systems often function seamlessly in the background, providing us with the desired indoor climate without much thought. However, the moment a glitch arises, the significance of these systems becomes apparent. At Custom Air and Heat Inc., we comprehend the importance of hassle-free heating and cooling, and our team of dedicated air conditioning contractors is here to address any issues you may encounter swiftly and effectively.
Understanding the Importance of HVAC Systems
Your home's HVAC (heating, ventilation, and air conditioning) system serves as the backbone of year-round comfort. From chilly winters to scorching summers, this intricate network of machinery ensures your living space remains cozy and enjoyable. Yet, like all mechanical systems, HVAC units can experience malfunctions over time due to wear and tear, insufficient maintenance, or various other factors. When these disruptions occur, it's crucial to have a reliable air conditioning contractor on your side.
Diagnosing Issues with Precision
When you're facing HVAC troubles, our seasoned air conditioning contractors will step in with expertise. Utilizing state-of-the-art diagnostic tools, we will meticulously inspect your system to pinpoint the root cause of the problem. This comprehensive analysis enables us to determine the components that require attention. Whether it's a glitch in the cooling system, an inefficiency in your heating system, or a ventilation concern, our professionals are equipped to handle it all.
Repair or Replacement: Your Choice, Our Action
With insights at hand, your air conditioning contractor will proceed based on your decision. If a repair is the chosen path, rest assured that our service trucks are well-equipped with cutting-edge tools and components, allowing us to carry out most repairs during the initial visit. This efficiency ensures minimal disruption to your routine. Alternatively, should you opt for an upgrade, we offer equipment from a range of top-tier companies. Our commitment to quality ensures that your new system will provide enhanced comfort and energy efficiency.
Tailored Services for Melbourne Residents
Serving both residential and commercial spaces in Melbourne, Florida, our air conditioning contractors hold customer satisfaction as their paramount goal. Recognizing the demands of modern life, we strive to accommodate your schedule, offering appointments on weekdays and weekends alike. Whether it's a cozy home or a bustling business, our experts are well-versed in addressing a spectrum of heating and cooling needs.
Beyond Comfort: Elevating Indoor Air Quality
While our expertise lies in air conditioning and heating systems, our commitment extends beyond mere temperature control. We acknowledge the significance of indoor air quality, especially in the face of allergens, dust, and pollutants. To promote healthier living, we integrate state-of-the-art indoor air quality products into our solutions. These innovations work tirelessly to reduce harmful particles, ensuring that you breathe easier and enjoy a pristine indoor environment.
Empowering Through Knowledge
At Custom Air and Heat Inc., we believe that an informed customer is an empowered customer. Our air conditioning contractors will take the time to explain not only the solutions to problems, but also preventive measures to maintain the longevity of your HVAC system. From simple maintenance tips to understanding thermostat adjustments, our aim is to equip you with the knowledge to make informed decisions about your home comfort.
In the world of home comfort, Custom Air and Heat Inc. stands as your dedicated partner, offering a comprehensive suite of HVAC services. From air conditioning and heating solutions to indoor air quality improvements, our air conditioning contractors bring expertise, reliability, and customer-centricity to every project. For residents and businesses in Melbourne, Florida, we are the go-to choice for all things HVAC. Reach out to us today for a free estimate, and experience the transformative power of optimal heating and cooling.
FAQs About Hiring an Air Conditioning Contractor
Hiring an air conditioning contractor should be simple, but you might find yourself feeling a bit indecisive since you want to make sure you're getting reliable service and the best value for your money. We understand this, which is why we have answered some frequently asked questions for you below. Don't hesitate to contact us with further questions.
How long have you been an air conditioning contractor?
We have been in the air conditioning business for about 30 years, so you can rest assured that we have enough experience to address your system's needs. When you need an air conditioning contractor who knows the ins and outs of installation, maintenance, and repairs, we're the company to turn to.
Do you do replacements?
Yes. While we install new air conditioning systems for our residential and commercial customers all the time, we can also provide air conditioning replacement when necessary. Our team will be sure to remove the existing system carefully and dispose of the parts responsibly before installing your new system with attention to detail.
What brands do you work with?
We install Trane and Comfortmaker for our customers, but we can also service all other brands, except York. You can trust us for accurate, effective repairs and maintenance.
What sets you apart from the competition?
We set ourselves apart as an air conditioning contractor by doing a better job, being honest, and making our service about people, not money. We're here to provide for your needs.
---
At Custom Air and Heat Inc., our air conditioning contractors proudly serve Melbourne, Viera, Rockledge, Palm Bay, West Melbourne, Melbourne Beach, Indialantic, Indian Harbour Beach, Satellite Beach, Cocoa Beach, Cape Canaveral, Cocoa, Port St. John, and Merritt Island, Florida.
Similar Services We Offer: