We take the best possible care of homeowners in Melbourne by bringing you the affordable, reliable, and swift air conditioning repair services you need.
Living in Melbourne, Florida, you can't go without your air conditioner.  Even if you can struggle along with wheezing or screeching noises, musty smells, temperature swings, excess humidity or dripping water, you shouldn't; don't wait for full system failure before calling us at Custom Air and Heat Inc. for assistance!  Those little problems with your air conditioning are more than an annoyance; they are warning signs of bigger, more time- and cost-intensive repairs.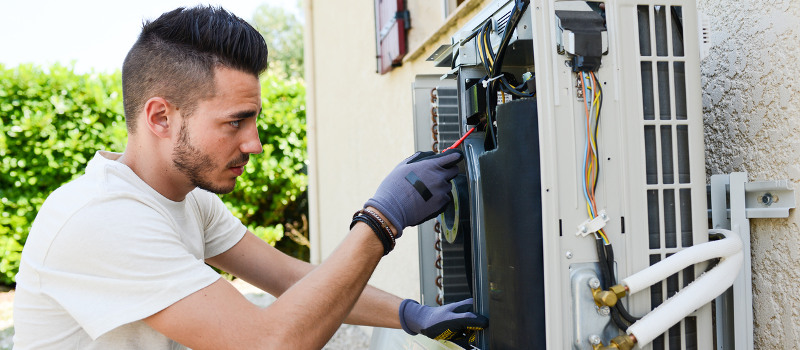 And as comfort levels decrease, it's a guarantee that energy consumption rises, which means you're paying more for less, living with inadequate performance and on borrowed time, and headed for disaster. The solution is simple, cost-effective, and convenient. Our team at Custom Air and Heat Inc. takes the best possible care of homeowners in Melbourne by bringing you the affordable, reliable, and swift air conditioning repair services you need.
When you require air conditioning repair, our team has the necessary training and product familiarity to handle everything from minor cleaning issues to full system breakdowns.  We work on all makes and models, whether your system could be advertised as an antique or is a state-of-the-art alternative.  Whenever possible, we rely on factory-authorized parts to ensure proper fit, restore sound levels, and promote durability.
Call us at Custom Air and Heat Inc. for air conditioning repairs you can count on to save you money, keep you safe and comfortable, and provide lasting satisfaction. You don't have to suffer without a functional air conditioning system. All you have to do is give us a call!
At Custom Air and Heat Inc., we're always ready and waiting to provide excellent service.
Watch Out for These Signs That You Need Air Conditioning Repair
Sometimes, it can be hard to know whether you need air conditioning repair and if you should call our team as soon as possible for help. For this reason, we've put together a list of signs you should watch for that indicate you should get your AC system looked at by one of our professionals sooner rather than later:
Poor air flow—If your AC system is running and you can't feel very much cool air coming out of your vents, this could be a sign that your system's compressor is failing. Don't wait until this air flow stops completely before you call us for help.
Lack of cool air—Your air conditioning could need repair if it doesn't blow cool air anymore or if some rooms of your home stay cool while others vary greatly in temperature.
Thermostat issues—Know that in some cases, there could simply be an issue with your thermostat instead of your actual AC unit. If you find that your home doesn't seem as cool as the temperature you set on your thermostat, this device could be having problems.
Strange sounds—Clunking, grinding, or squealing sounds coming from your AC unit are never a good sign.
Remember that the longer you put off air conditioning repair, the more extensive and expensive the repairs can become. If you have any questions, please don't hesitate to give us a call!
FAQs About Air Conditioning Repair
Air conditioning is very important if you are to maintain your home or business' comfort. That means you need to turn to the right professionals for air conditioning repair as the need arises. To assure you that we are the trusted experts you can rely on, we have provided answers to commonly asked questions about air conditioning repair. Feel free to reach out to our team if you have additional questions.
Do I need air conditioning repair if my unit keeps icing up?
Most likely. If you notice that your air conditioner ices up, there could be a few things wrong with it. The air filter or evaporator coil may be dirty, which prevents heat from transferring to the cold refrigerant inside your unit. This causes ice to form. A broken blower fan can also have the same effect. But no matter what is causing your unit to ice up, our technicians can diagnose the problem, repair the issue, and restore your comfort in no time.
Why should I choose your company for air conditioning repair?
Our company has been in this industry for 30 years. We are familiar with the repairs most units need and can complete the work quickly. But beyond our experience and knowledge, we set ourselves apart with our honest service and fair prices.
How can I avoid needing air conditioning repair in the future?
One of the best ways to avoid the need for air conditioning repair is to stay on top of maintenance. We recommend scheduling maintenance once in the spring and once in the fall to keep your unit in great condition.
---
At Custom Air and Heat Inc., we offer air conditioning repair services in Melbourne, Viera, Rockledge, Palm Bay, West Melbourne, Melbourne Beach, Indialantic, Indian Harbour Beach, Satellite Beach, Cocoa Beach, Cape Canaveral, Cocoa, Port St. John, and Merritt Island, Florida.
Similar Services We Offer: