You want to stay cool all summer long, but at Custom Air and Heat Inc., we also know you don't want to pay a fortune to make that happen. This is why we've put together a few strategies that can help you cut back on your cooling bills while still maintaining your comfort (and your sanity).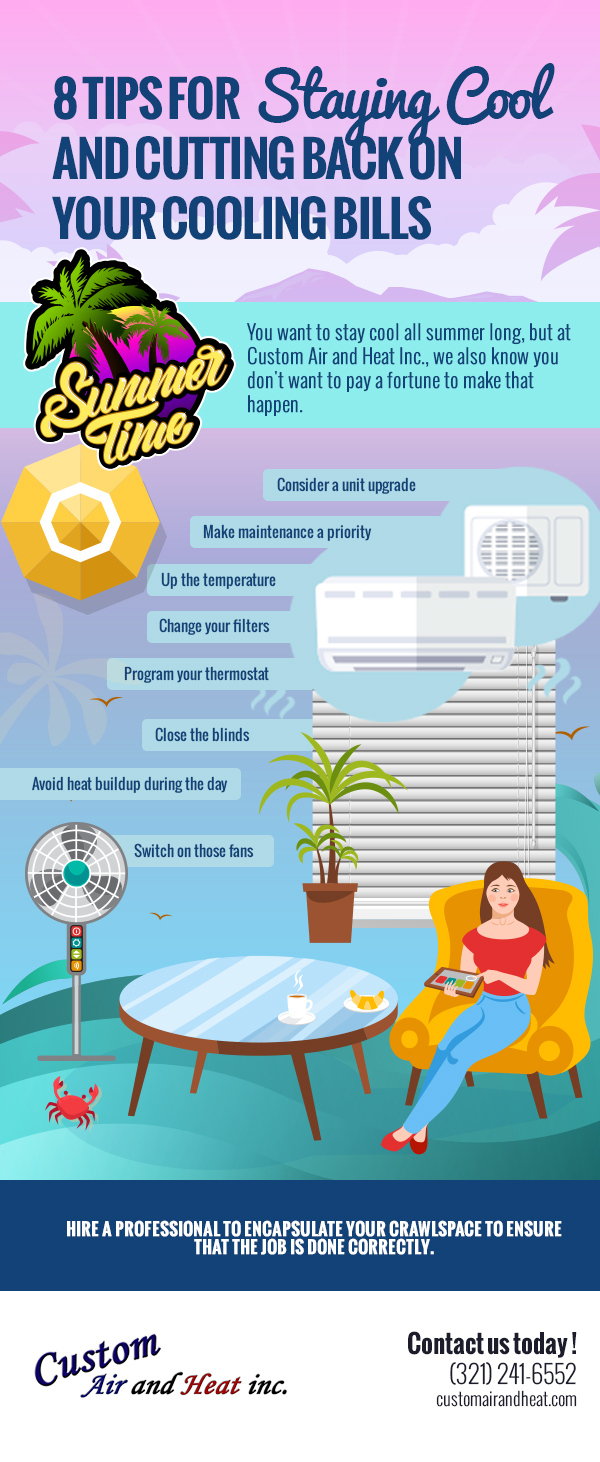 1.  Close the blinds—Letting in natural light is great, but it can quickly heat up your home. Keep your home cool by shutting your blinds and curtains at the hottest times of day.
2.  Switch on those fans—Ceiling or standalone fans use much less energy than your air conditioner, and when circulating, they can help your home feel several degrees cooler than it actually is.
3.  Up the temperature a degree or two—Even a small change in temperature can make a big difference when you get your cooling bill! Try turning up your thermostat a degree or two to cut back without impacting your comfort.
4.  Avoid heat buildup during the day—Craving chocolate chip cookies? Consider heading to the grocery store or bakery instead of making your own, so you can avoid turning on your oven or other appliances that generate a lot of heat when it's hottest outside.
5.  Change your filters—After a few months, dirt and grime build up on your air filters, limiting your AC unit's efficiency. Change your filters every few months to experience cost savings.
6.  Program your thermostat—Messing with your thermostat constantly can cause you to inadvertently pay more to cool your home. If you have a programmable thermostat, set it and then leave it alone.
7.  Make maintenance a priority—Making sure all your AC unit's parts and equipment are in good working condition is key to ensuring the efficiency of your system.
8.  Consider a unit upgrade—How long has it been since your current AC unit was installed? If it's been over a decade or so, consider upgrading your system for greater efficiency and long-term cost savings.