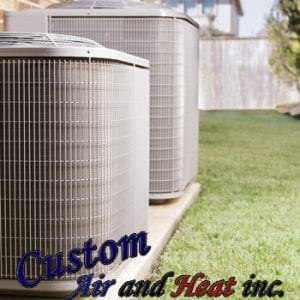 We will address any concerns you have with a thorough evaluation of your commercial heating & cooling system. Once we determine what could be causing problems, we'll discuss with you the options that you have available to you and help you come to the best decision for your situation.  Sometimes a small repair is all you need to get everything working again, but sometimes it is a better option to replace your system.
New commercial heating & cooling systems are more technologically advanced with every passing year.  In some situations, it may be more cost-effective for you to purchase a new system that is highly efficient and uses less energy than to continue to fix an old system. At Custom Air and Heat Inc., we have 30 years of experience and can help you know the best decision to make. We will crunch the numbers with you and discuss your options. Commercial heating & cooling is a huge expense each month, so making sure you have the right size unit for the space that needs to be managed and maximum efficiency is key to saving money.
If you're in Rockledge, Florida and need commercial heating & cooling services, let us know how we can help you. We are known for honest and fair pricing and do everything we can to take care of people. We know how important it is for our customers to feel confident in the work we do for them. We also know how important it is for you to keep your commercial space properly heated and cooled throughout the year.